About Darryl E Berry Jr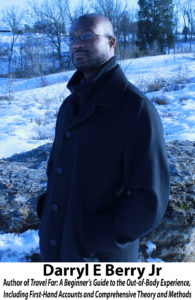 Author | Speaker | Tutor | Student
www.darryleberryjr.com | www.nextdensity.org
Education
Associate of Science, summa cum laude, Palo Alto College, May 2022
Associate of Arts, summa cum laude, Palo Alto College, August 2022
Current Enrollment
The University of Texas at Austin, Austin TX
Physics
Location
Austin, TX
Introduction
My name is Darryl E Berry Jr, founder of Next Density Center. I have a long-time interest in the out-of-body experience, and I orchestrate practical courses and research studies on the topic. My first book, Travel Far, contains several of my out-of-body experience journals as well as being a comprehensive "how-to" on OBE. I'm pursuing a degrees in physics and mathematics at UT Austin, and I am expanding my writing portfolio with poetry, fiction, and other forms of non-fiction.
I've participated in over 40 interviews and speaking engagements. I offer in-person and online lectures, workshops, and question & answer sessions. If you'd like an appearance in your area or location or on your show please contact me via the contact page. If you'd like me to appear on your favorite radio, online, or talk show please let me know and notify the management of the show of your interest.
To join practical courses and classes and research studies, and for information on my current and future publications, visit Next Density Center at www.nextdensity.org.
Highlights:
1984-Out-of-body experiences and extraterrestrial interactions began
2007-Transcendant experience as universal mind
2015-Publishing of Travel Far, included in 34th Annual Kentucky Book Fair

2016-Publishing of Classes on A Course in Miracles and Forgive and Be Free
2020-poetry published in the Eleven Rivers Review Vol. 6 (2019-2020)
2020-Fifty Percent (50%) who completed the Basics course, and one hundred percent (100%) who completed the entire course, had OBEs
2022-Summa cum laude Associate of Science degree; summa cum laude Associate of Arts degree
2022-Class of 2025, UT Austin
Speaking History and Interviews (42)
** Speaking Engagements (7) **
#7 Heritage Month: National Poetry Day | Poetry Reading

Thursday, Oct 1 2020 |  11 AM Central
#6 New York Adventure Club – "A Metaphysical & Spiritual Journey to Lifelong Inner Peace"
Webinar | Thursday, Aug 6 2020 |  1 PM – 2:30 PM Eastern
#5 – Modern Day Debate – Flat Earth Debate | Darryl Vs Wotan
Debate | Saturday, December 28 2019
#4 Out-of-Body Experience Q & A
Video Chat | August 27, 2016
#3 Altered States, OBEs, and ETs
Lecture / Talk / Q & A | Saturday, August 6, 2016 | Andover Haunted House Para Fest, Andover, NY
#2 Are There Extraterrestrials Visiting Earth
Lecture / Talk / Q & A | Saturday, March 26, 2016 | Frankfort, Kentucky
#1 What Is The Out-of-Body Experience (OBE)
Lecture / Talk / Q & A | 2-27-16
** Interviews and Talk Shows (35) **
#35 – Journey Through The Unexplained (The Out-of-Body Experience) – Thursday February 18 2021 8 PM GMT
#34 – Lighting the Void – The Out of Body Experience – Tuesday April 14 2020 9 PM Pacific
#33 – Ghostly Talk – The Out-of-Body Experience – Tuesday March 17 2020
#32 – Unbiased and On the Fence – Discussing ACIM and New Book Existential Suicide – Monday October 10 2019
#31 – Unbiased and On the Fence – Paranormal Frequencies Darryl E Berry Jr – Saturday January 21 2019
#30 – End of Days Radio (3) – Darryl E Berry Jr – Out-of-Body Travel, Transhumanism, Demons (co-host / dual guest with main guest Albert Taylor) – Saturday September 10 2016
#29 – Paranormal Underground Radio (4) – Darryl E Berry Jr on Spirituality, A Course in Miracles, and New Book Forgiving People Who Believe the Earth is Flat – Thursday, June 23, 2016 (9 PM EST LIVE)
#28 – Path 11 Podcast (3) – Darryl E Berry Jr on Forgiveness, A Course in Miracles, and New Book Forgiving People Who Believe the Earth is Flat – Monday, June 20, 2016
#27 – Spiritual Insights with Charlotte Spicer – Out-of-Body Experiences: An In-Depth Discussion with Darryl E. Berry, Jr. – Thursday June 3, 2016 3 PM EST (LIVE) Download Here or Download Here
#26 – 100th Monkey Radio (6) – Aliens and UFO's – May 8, 2016 – Online
#25 – 100th Monkey Radio (5) – Out-of-Body Experiences, Metaphysics, Consciousness, Dealing with End of the World Ideas – March 15, 2015
#24 – End of Days Radio (2) – Out-of-Body Experiences, General Metaphysics, Time Travel, Consciousness – Saturday March 12, 2015
#23 – Paranormal Underground (3) – LIVE Thursday February 11, 2016 – 6 PM PST / 9 PM EST
#22 – Exploring Unexplained Phenomena on KZUM Radio Nebraska with Scott Colborn – Saturday, January 30, 2015, 11 AM EST
#21 – End of Days Radio – Saturday, January 23, 2015, 7:30 PM PST
#20- The Path Series Podcast -> Ep 40 – Darryl E Berry Jr – Discussing A Course in Miracles and Pure Non-Dualism – Recording Friday, January 8, 2016
#19 – The Path Series Podcast -> Ep 39 – Darryl E Berry Jr – Discussing Out-of-Body Experiences, Altered States of Consciousness, ET Contact, "Government" – Recorded Friday, December 18, 2015
#18 – Every Beyond Radio (Wolf Spirit Radio) (2) with Jay Pee – Milabs and Personal Choice – Sunday, November 8, 2015, 6 PM EST
#17 – Dr J Radio Live (With Johny Webb) – Out-of-Body Experiences – Tuesday, October 20, 2015 – 7 PM PST / 10 PM EST Live
#16 – The Hundredth Monkey Radio (4) – A Course in Miracles and Pure Non-Dualism – Sunday Oct 18, 2015 – 8 PM EST
#15 – The Peter Maxwell Slattery Show – Out-of-Body Experience, Altered States, and Extraterrestrial Contacts – Thursday, October 15, 2015, 7 PM Eastern Time
#14 – The One People Oneness Radio – General Metaphysics – Thursday October 8, 2015, 8 PM Eastern Time
# 13 – Paranormal Underground Radio (2) – Brief Discussion of OBEs – Thursday September 24, 2015, 10:30 PM Eastern Time (10-minute brief during roundtable)
#12 – Ever Beyond Radio (Wolf Spirit Radio) (1) with Jay Pee – Out-of-Body Experiences – Monday September 21, 2015, 8 PM EST
# 11 – Cosmic Awakening Show (In5d Esoteric Metaphysical and Spiritual Database) – Out-of-Body Experiences, Spirituality, and General Metaphysics – Thursday, September 17, 2015, 8:00 PM Eastern Time
#10 – Lon Strickler on Arcane Radio – Astral Projection and the Nonphysical – Monday, September 14, 2015, 10:30 PM EST
#9 – Paranormal Underground Radio (1) – Out-of-Body Experiences and the Paranormal – Thursday, September 3, 2015, 10:30 PM EST
#8 – Beyond the White Noise Paranormal Vidcast – Sunday, August 9, 2015 5 PM EST
#7 – Hundredth Monkey Radio (3)- Sunday July 5, 2015 – On OBEs Including Time Travel OBEs, Invisible Helper Work
#6 – The 'X' Zone Radio Show with Rob McConnell – Monday June 29, 2015 – Travel Far book and out-of-body experiences
#5 – The KTPF Paranormal Community & Talk Show – June 7 2015 – Out-of-Body Experiences
#4 – Hundredth Monkey Radio (2) – April 5, 2015 – Hour 1 – Extraterrestrials / Earth's Future / Contact
#3 – Hundredth Monkey Radio (1) – March 8, 2015 – Hours 1 and 2 – Spirituality / Out-of-Body Experiences and the book Travel Far…
#2 – Jeff Rense – February 24, 2015 – Out-of-Body Experiences and the book Travel Far
#1 – One Step Beyond Reality – Extraterrestrial Encounters – Pat Patterson February 21, 2006
June 2022